Precision Knife Sharpener
sharpening system for knifes
 (price reduced due to scratch on underside)
clamp the knife in the angled knife holder which
rotates 180 degrees to sharpen the opposite side at the same angle
change sharpening angle by raising and lowering the rod with the thumb screw.
stones are universal fitting and slide into the spring loaded holder, compatible with all major brands .
to sharpen clamp the knife into the clamp and slide the stone forwards and backwards while moving from side to side.
Rotate knife to sharpen reverse side and repeat with finer stone,
ships  with 180 grit, 400 grit, 800 grit and 1500 grit oil stones
2000 grit and 3000 grit water stones.
additional stones available on SY sharpener product page.
Recommend this product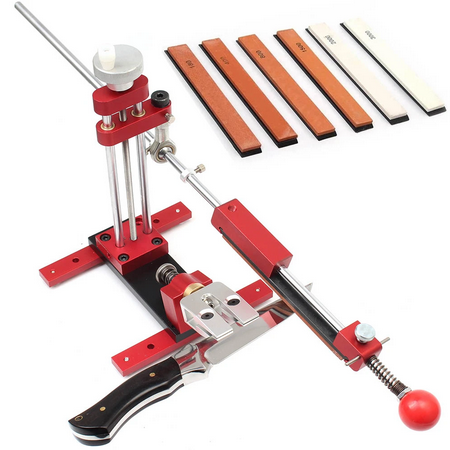 Precision Knife Sharpener