Carbon fiber, Titanium or Ebony Neck reinforcing rod
Guyker Carbon Fiber rod
3mm by 6mm by 450mm
Square corners
Unbranded carbon Fiber rods
(same quality)
good strength to weight ratio
Solid Ebony rods 6mm by 25mm by 520mm
can be cut to length
sold singly.
Carbon fiber rods are used to stiffen the neck and prevent twisting
which is something the truss rod doesn't achieve
To install cut the grove along the neck and epoxy in before cutting for the truss rod
keep the rods close to the truss rod, about 3mm
Carbon fiber can be cut and sanded.
Titanium is TA2/GR2 6.3mm square by 500mm long
very light but very tough, cannot be cut without 
specialist equipment. These are stock bars, not machines
straightened or polished.
if you want any of these items cut to length
just send me a size when ordering and I'll do that
Recommend this product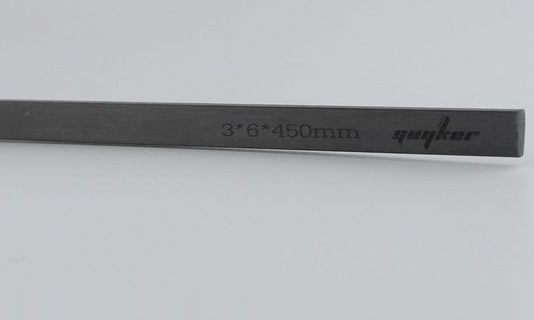 Carbon fiber, Titanium or Ebony Neck reinforcing rod