Fret Polishing Rubber
Silicon carbide abrasive in a synthetic rubber block.
firm but flexible this block gives an even scratch pattern
can be used wet or dry or with an oil based finish.
suitable for use on
paint and varnish, 
glass, 
stone, 
wood, 
plastic, 
leather and 
metal. 
available in 60, 120 and 240 grit.
blocks are 20mm by 50mm by 80mm
grit is through the entire block and works on any face
can be cut with a knife. Note the size, these are quite big.
Recommend this product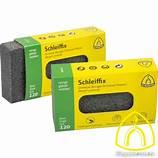 Fret Polishing Rubber