Loaded Scratch Plate assembly
Black loaded scratch plate assembly. suitable for strat, rt handed.   
 One volume, 2 tone controls and 3 single coil pickups
  Dimension: 28.5 * 22.5cm (approx)

3ply PVC material, SSS style, 11 screw mounting holes in the side of pickguard.                            
 Single Coil Pickup: Neck/Middle/Bridge Pickups,ceramic magnet,flat fixed pole pieces ,pole spacing 48mm/50mm/52mm(N/M/B),resistance 5-6 kohm (N/M/B).
Knob&Pots: 2T1V knobs, mini pots ,A500k pots for tone ,B500k pot for volume.
Switch: 5-way pickup selector toggle switch .
With pure aluminum foil shielded in the back side of pickguard.
Recommend this product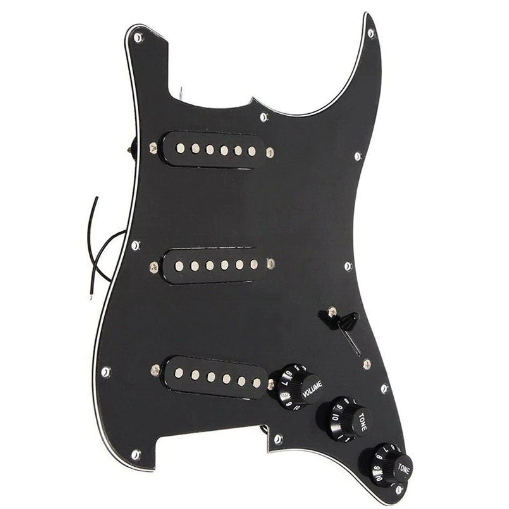 Loaded Scratch Plate assembly