Drum Sander Loadings sale
Rolls of abrasive selected for Drum Sanders75 by 2850mm to fit ( almost ) all three inch drum sanders, sold square ended Sia 2920 Aluminium Oxide ( brown ) Perfect surfaces thanks to TopTec Dust-free process: Antistatic construction minimises dust build-up on belt, workpiece and machinery Suitable for long periods of use thanks to very robust backing and optimised grit spreading technology High removal rate when working on softwood and hardwood with coarser grits Naylers Zirconium ( Blue ) A long life and fast cutting Zirconium abrasive with polyester backing.
Sunmight R203 Alumina Zirconia ( green )
polyester backed Abrasive
102mm wide by 3.5m Long
This Zirconia product has outstanding free-cutting ability with excellent durability, which is suitable for heavy duty sanding. Fast grinding speed is it's benefit and also has the ability to suppress heat, so it can be used in dry applications
Advantages
◆ High cutting performance
◆ Active filler reduce heat build up, so there's less burning parts.
◆ Heavy duty Sanding.
◆ Long lasting (Excellent shelling resistance).
Manufactured with the intention of use on
◆ Stainless steel & Carbon steel.
◆ Cast iron.
◆ Nickel Alloy.
◆ Hard wood.
◆ Titanium.
Recommend this product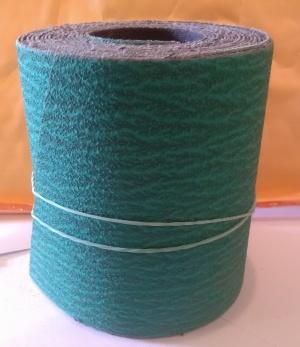 Drum Sander Loadings sale