Double Shake Bridge Octave Adjustment Tool
This tool is for setup of electric guitar bridges.
1. Slacken the string (remembering to loosen the locking nut first), and then slip the lugs of the intonation setting tool between the back of the bridge and the fine Tuning Tool. Tighten the screw until it begins to grip. This ensures that the bridge saddle won't slip forward when you slacken its allen bolts. You can then adjust the intonation, tightening the tools knurled rings to move the saddle back if the string was sharp or slackening it to move the saddle forward if it was flat. re tuning the string and check, if necessary repeating the process.
2. Then do the same on the other strings, re tighten the locking nut and fine tune as necessary. Some notes of warning: Don't try adjusting with the string up to tension - you need to slacken, adjust, re tuning. Work on one string at a time and only loosen one bridge saddle at a time.
Tremolo System Intonation Tool to set the intonation on bridges. Accurate intonation, provide easy and precise adjustments.
Note: Only for specific brands and models.
All items in stock in UK for next day dispatch
Recommend this product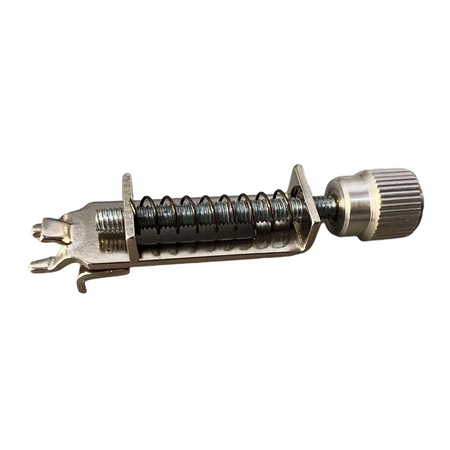 Double Shake Bridge Octave Adjustment Tool