Digital Moisture Meter and Hygrometer
Four pin digital moisture meter and hygrometer
both essential for wood room atmospheric control
your wood should arrive between 8 and 12% depending on source.
check by driving the pins into the face of the timber ( not the end)
check the table below and if your timber is significantly 
above your room RH you need to acclimatize it gradually or damage may
occur.
you want your wood stored between about 40 and 60%
above and consider dehumidifying and to low and you may want to add
moisture, a very hot dry day can ruin a lot of your stored timber in
a matter of hours.
30% = 6%
50% = 9%
65% = 12%
80% = 16%
Measuring range: 5% to 40%
Resolution: 1%
Accuracy: ±1%
Low battery display function: yes
Meter size: 126x70x29mm/4.96*2.75*1.14''
Weight: about 150g
Power: Single 6F22 9V battery
Battery life: about 150 hours of continuous use
Hygrometer
Measuring humidity: 10%RH-99%RH
Humidity display resolution: 1% RH
Measuring temperature range: -50 ~+70( Degrees Celsius)
Temperature accuracy: ± 1
Temperature display resolution: 0.1  .
Operating voltage: 2 * 1.5V button LR44 batteries (
Not included
)
Recommend this product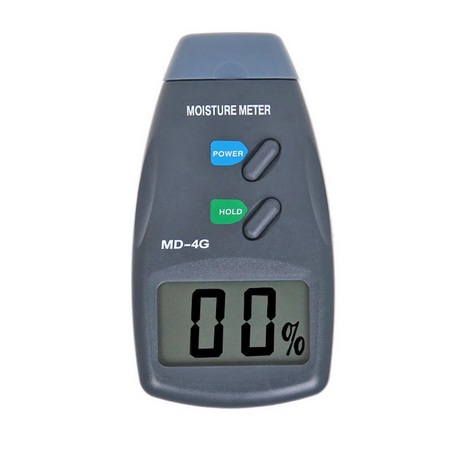 Digital Moisture Meter and Hygrometer