Cyanoacrylate Superglue debonder and Accelerator
Glue
When you want to bond two surfaces together quickly and efficiently there's nothing much that beats a cyanoacrylate superglue.
Chestnut Products' CA Superglues come in three viscosities:
Thin – very low viscosity for capillary action when you want the glue to penetrate deep into small cracks. Can also be used to post-assembly to wick into parts.
Ideal for use when joining very close fitting parts and smooth, even surfaces. Dries in seconds.
Medium – for general purpose use, stays where you put it! Takes up to 20 seconds to dry giving  you enough time to line everything up. Good for fairly smooth surfaces.
Thick – for gap filling where you want to seal a crack in your timber, mixed with sawdust if you want.
Slower drying, up to 60 seconds when applied thickly.
If you need a faster drying time use Accelerator for Superglues which can reduce the drying time to less than 2 seconds. Use the accelerator sparingly to avoid a white bloom on the surface.
A full cure – and maximum strength – requires 24 hours.
Low temperatures can reduce the cure time.
To get the longest life out of your glue, keep away from warmth – they are best stored at +5 degrees C.
Black Superglue
A new take on our CA Superglue, this is a thick, black glue with all the same properties but ideal for use when the glue line shows. The dried glue imitates the look of a natural flaw in the timber, disguising the join so that it becomes a feature!
Accelerator
Cyanoacrylate Superglues are pretty fast drying already, especially the thin one.  But sometimes when you're gap filling or just in a hurry you want a quicker or even an instant bond, and that's where our Accelerator for Superglues come in, supplied in an easy to use aerosol.
You can use this in one of two ways. If you're gap filling and the glue is exposed a quick spray with the Accelerator will force the glue to dry straight away. Don't use too much, this can cause the glue to cloud and go white.
If you're working on an enclosed joint and can't spray onto the glue, instead apply the glue to one side of the joint and spray accelerator on the other side, join and it's stuck. And we mean stuck, so make sure you get it right, you probably won't have any time to reposition it if you need to.
Debonder
Accidents will happen, whether you've misaligned something you've stuck together with superglue or you've stuck your hand to the desk!
DeBonder will dissolve superglue to allow the bond to be broken should you need to. You can also use it to clean up uncured spills of glue and remove small areas of cured glue. Over time it will soften larger areas to make cleaning up easier.
It will debond skin but should not be used on lips or eyes.
DeBonder comes in a small glass jar which has a useful applicator in the lid.
Recommend this product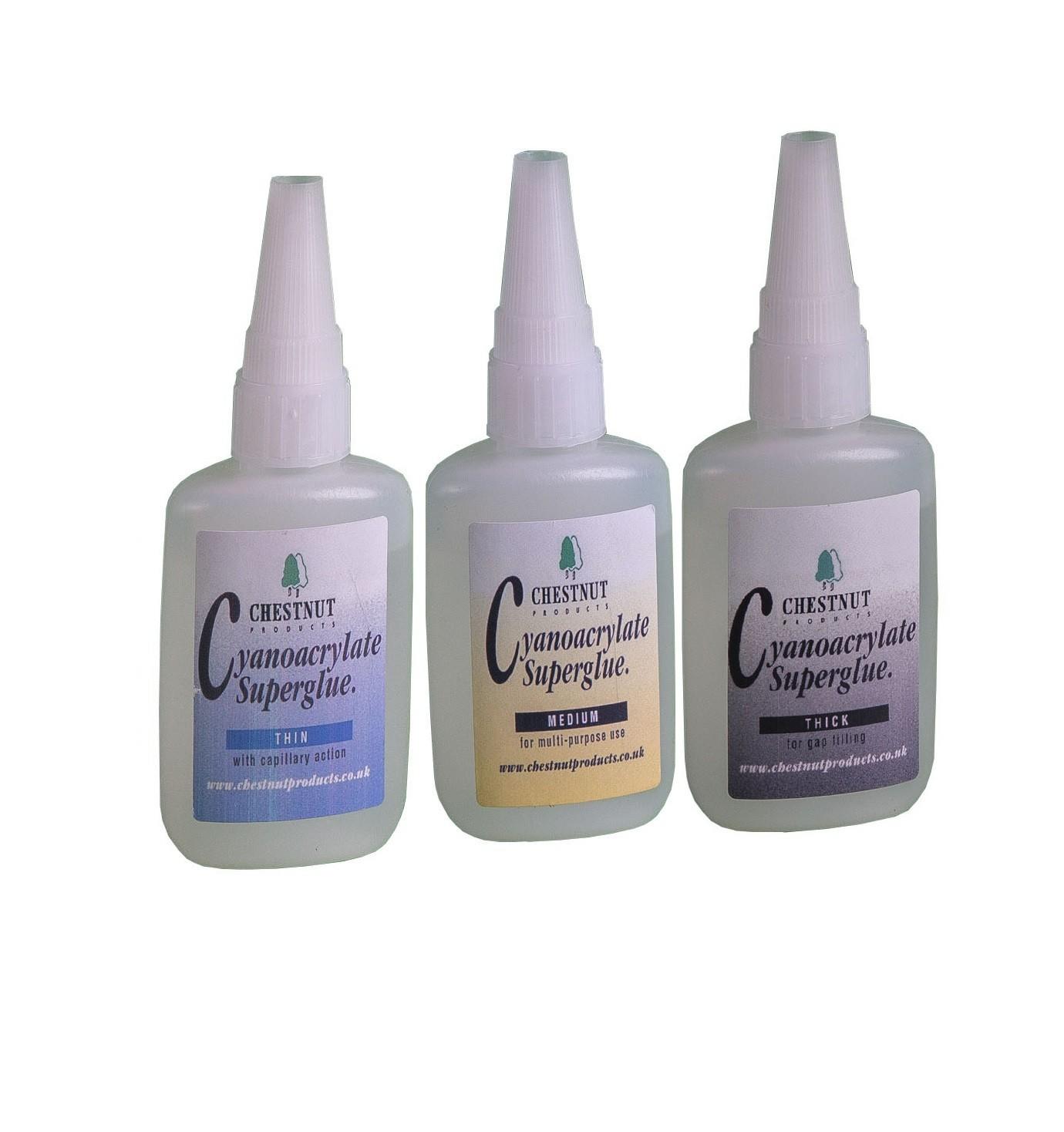 Cyanoacrylate Superglue debonder and Accelerator