Bowl Sanding Tool
When you need to finish sanding the inside of your wood-turned bowl it can be a challenge to keep the wood from showing scuff marks. Using a piece of handheld sandpaper can also be somewhat dangerous. Our bowl sander essentially fixes this issue by having a dual bearing, smooth rotating head that spins with the rotation of the bowl while the bowl is rotating on the lathe. The 11.8-inch long handle also helps keep your hands out of harm's way.

The head assembly is completely adjustable has two steel bearings to provide you with super smooth mandrel rotation while sanding on your lathe. This also helps to reduce the chance of marking your wood since the sander will be rotating without hanging up or catching.

 By applying light pressure and consistently moving the sander, you will achieve the results you are looking for in a fraction of the time it typically takes when hand sanding your project.
Handle and heads compatible with other brands with 1/4" shank.
head and shank are alloy and can be used in a chuck.


Sanding Disks
Sanding Disks are Hook and loop backed and are sold in fives
Recommend this product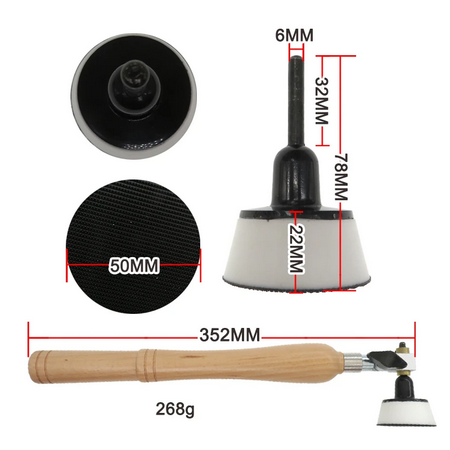 Bowl Sanding Tool