ANENG AN8008 Digital Multimeter
The product is battery-powered with true-rms, LCD display and backlight.
 1-1.AN8008 Multifunction:Can measure AC/DC voltage,AC/DC current,resistance,capacitance,
 frequency,duty cycle,square wave output,diode and continuity.
 1-2.Portable design:There is a back bracket for supporting multimeter,convenient to operate.
 1-3.Wide range of applications:It's a perfect tool for the laboratory,factory and home.
 1-4.Clear to read:With large LCD backlight display and data hold,easy to read data.
 1-5.More advantages:Auto/manual range,true RMS,auto power off and over range indication.
Specification:
            

Brand Name

            

            

ANENG

            

            

Model

            

            

AN8008

            

            

Counts

            

            

9999

            

            

Diode Test

            

            

Yes

            

            

Continuity

            

            

Yes

            

            

Square wave output

            

            

Yes

            

            

Backlight

            

            

Yes

            

            

Data hold

            

            

Yes

            

            

Auto/manual range

            

            

Yes

            

            

Auto power off

            

            

Yes

            

            

Over range Indication

            

            

Yes

            

            

Duty Cycle

            

            

1%-99% ±( 0.1%+2)

            
            

DC voltage

            

            

999.9mV/9.999V/99.99V/999.9V±(0.5%+3),9.999mV/99.99mV±(0.5%+3)

            

            

AC voltage

            

            

999.9mV/9.999V/99.99V/750V±(1.0%+3),9.999mV/99.99mV±(1.0%+3)

            

            

DC current

            

            

999.9mA/9.999A±(1.0%+3),99.99μA/999.9μA±(0.8%+3)

            

            

AC current

            

            

999.9mA/9.999A±(1.2%+3),99.99μA/9999μA±(1.0%+3)

            

            

Resistance

            

            

99.99Ω±(1.0%+3),999.9Ω/9.999kΩ/99.99kΩ/999.9kΩ±(0.5%+3),9.999MΩ±(1.5%+3)

            

            

Capacitance

            

            

9.999nF±(5.0%+20),99.99nF/999.9nF/9.999μF/99.99μF/999.9μF±(2.0%+5),9.999mF±(5.0%+5)

            

            

Frequency

            

            

99.99Hz/999.9Hz/9.999kHz/99.99kHz/999.9kHz/9.999MHz ±(0.1% + 2)

            

            

Power

            

            

2 x 1.5V AAA (Not included)

            
Package List:
 1 x Digital Multimeter
 2 x Test Leads Pens
 1 x Storage bag
 1 x User Manual
 2 x needle test probes
Recommend this product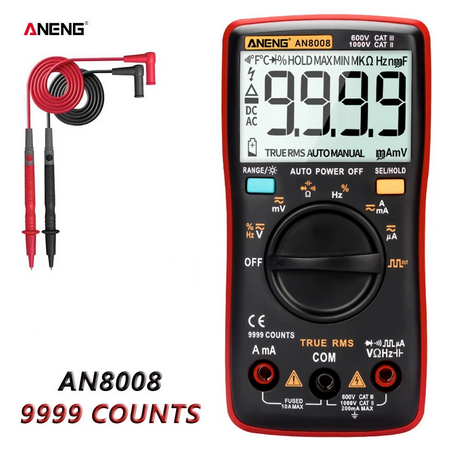 ANENG AN8008 Digital Multimeter